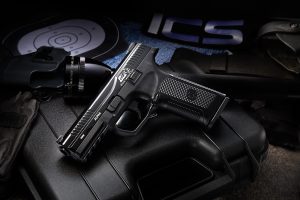 Het allereerste pistool van ICS is uit; de BLE Alpha! We hebben hem al even mogen vasthouden op de IWA en waren zeker onder de indruk.  De Alpha wordt geproduceerd onder het Black Leopard Eye label, het submerk van ICS waar alle pistolen onder gaan vallen.
Dit op de FNP 45 gebaseerde GBB pistool schiet onder ideale omstandigheden zo'n 60 meter ver en zal qua gas capaciteit per magazijn 47 schoten kunnen vuren. Wat niet geheel onbelangrijk is: hij past in een Glock holster! We kunnen niet wachten tot we de eerste exemplaren in handen hebben.
Features:
The innovative and advanced ALPHA follows the standards set by ICS rifles to bring you a high quality, high performance pistol.
The ALPHA features ambidextrous slide stop and ambidextrous magazine catch, thus being ideal for both right and left-handed shooters.
High strength polymer frame and full metal slide
Forward and rear slide serrations for improved grip for weapon manipulation
Better gas efficiency and faster cycle rate
High power blowback assembly
Concealed hammer design
Ergonomic pistol grip
Split-trigger safety
Secondary trigger safety
Integrated M1913 Picatinny lower accessory rail
Ambidextrous slide catch
Ambidextrous mag catch
Swappable back straps for a custom fit (Flat / Thick)
High-capacity 24 rounds magazine
Realistic blowback action
Fit with Glock holster